Online strip sites take stripping totally digital, offering sexy teases through the webcam instead of the main stage. But how do the costs of cam sites measure up with their in-person counterparts? Let's take a closer look at the costs of online strippers vs those at local nude clubs.
Costs of Online Strip Clubs Lower than Local Titty Bars?
At strip clubs, customers have to open their wallets before even stepping into the club.
Like most nightlife venues, strip clubs charge a cover fee just for admission. These fees vary from venue to venue, but let's just say for now that this particular club charges $15 to get in. Once they enter, spectators are encouraged by bartenders and wait staff to purchase drinks and sometimes food while they enjoy the dancers' performances.
Now, let's assume that our hypothetical customer in this scenario skips the food altogether and buys four $6 beers throughout the night, tipping his bartender around $5.
At this point, the customer has spent $44 without even giving the strippers a single cent!
But surely, this customer isn't an asshole, so he follows proper strip club etiquette and buys a $25 lap dance after enticing his favorite performer with a $10 tip for her dazzling stage routine. The dance lasts through one 4-minute song and it's fantastic, so to show his gratitude, this customer gives our stripper an extra $5. He may be gracious, but he's not necessarily made of money, right.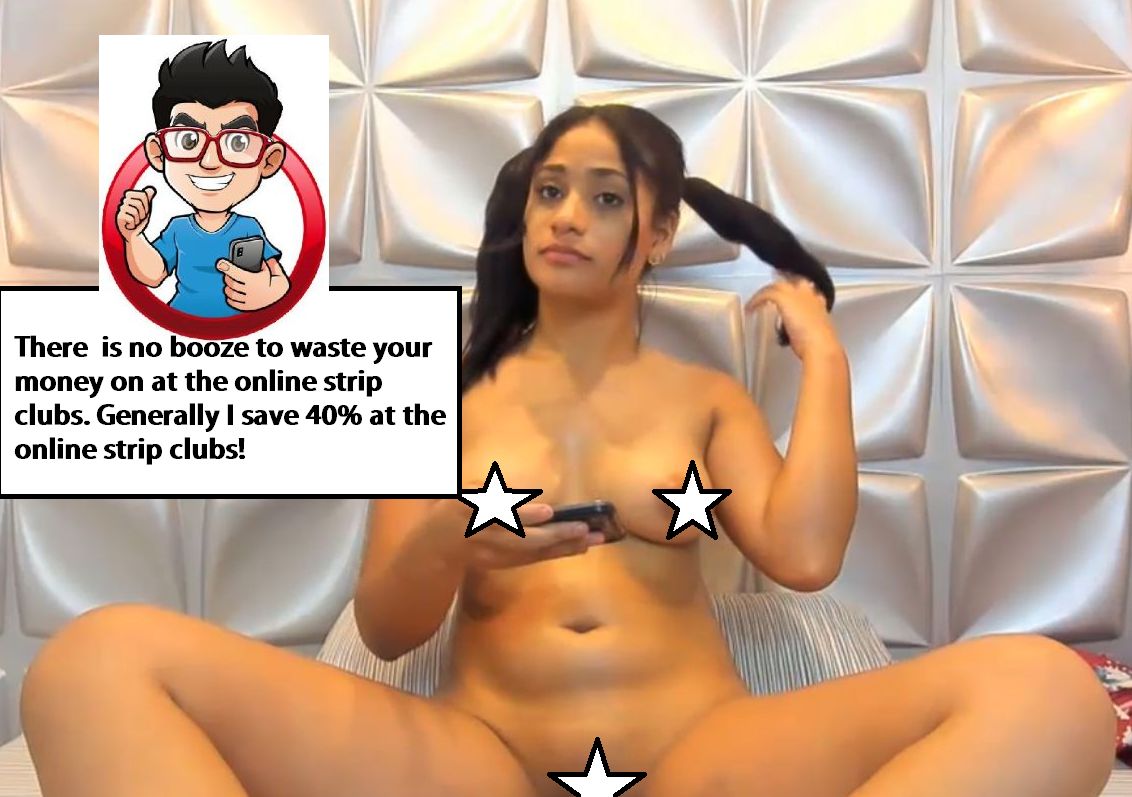 This single four-minute lap dance costs our customer $40, which is just under what he's already spent on his drinks and the club's cover fee.
Before I go into this more, I  have to tell you that honestly, online strip clubs are just far cheaper and better overall.
I spent $200 once in Jacksonville Strip Clubs and even more on a night out watching strippers in PDX and not one of the girls gave me a private nude show. The cheapest sex in the world I really believe is with strippers on cam these days.
I should also add that Miami Strip Clubs tend to be some of the most expensive. Hell, watching Florida strippers as a whole is hell costly!
However, even at the midwest titty bars, like Kansas City Strip Clubs I can blow a lot without getting much of anything.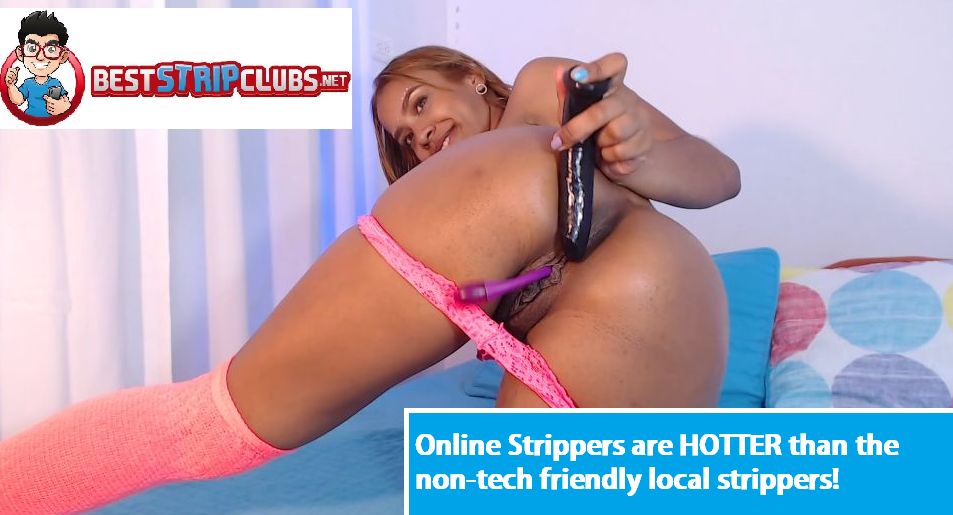 Heck, I can have a mind-blowing live strip show cheaper than a pizza at Streamate. I would be spending that on a pitcher of a beer when I first sit down at most titty bars!
Cam Girls Prices are Less Than Strippers
Online strippers are actually cheap compared to seeing local nude girls. This night out is $84 altogether, and that's assuming that this club is a middle-of-the-road local spot and the customer is reasonably frugal.
Now let's recreate his night out, except this time, he'll be logging on to a cam site from home instead of hitting up the club. He buys a six-pack of his favorite beer from the corner store first. It's $12. As he casually sips on his first beer, he visits a site he's been eyeing. Signing up is free. He spends most of his time drinking the first beer and simply browsing through different models' chat rooms, offering some light conversation here and there.
As he cracks open the second beer, he finds her. His type. She's smoking hot and she's even playing a song he likes. After a little bit of conversation, he tips her $10. It's time for a private show. The private show lasts only four minutes long, and this online stripper charges $5/minute on private shows.
It's a little higher than some other girls' rates on the site but well worth it. $5 tip. Five stars.
This customer has successfully recreated an $84 experience for $47 by joining a cam site instead of going to a strip club. That's $37 worth of savings!
He didn't have to pay a cover fee and got to drink his favorite beer without paying the costly markups you find at restaurants and bars for the same drink. On the cam site, there were hundreds of profiles he could browse until finding the perfect model for him. On top of that, nobody stopped him from getting naked during her performance.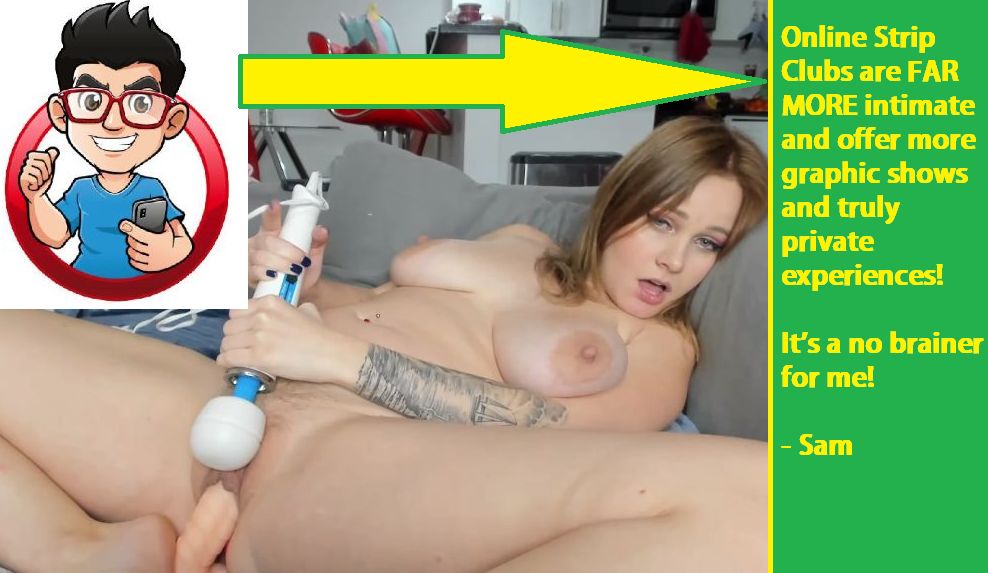 I really do prefer the best strip clubs online!
Sounds like a win, win, win to me.
That being said, people who prefer going to strip clubs do so for a reason. It's a great way to get out of the house alone or with your friends, and the strip club provides a fun, lively atmosphere that cam sites can't yet perfectly replicate. When you go to a strip club, you're paying for this public crowd experience, and that's okay.
But if you prefer a more tailored experience in a more intimate setting, consider signing up for an online strippers site instead.
You won't have to wait until you get home to jerk off, and as you can see, it can be way, way cheaper. Online strippers I have come to realize are about 40% cheaper than nudie bars and they have a way better selection, total privacy, and get super graphic!